Animal Clinic of Paxton, Inc
The Animal Clinic of Paxton, Inc was founded in 1982 by Dr. David Crank. He was the sole veterinarian until 2003 when Dr. Kim Bunag joined the practice out of veterinary school. Dr. Crank and Dr. Kim practiced together until 2008 when Dr. Crank passed away. Dr. Holly Brophy joined the practice part time in 2009.
Mission
We provide quality small animal and exotic medicine at affordable prices. We strive to provide your pet with high quality, state of the art medicine. We treat all of our patients with the care and compassion we would expect our own pets to be treated with. Whether it?s beginning puppy or kitten care, wellness care, injuries, ill animals, or aged animal care we treat your pet like family.
Hours of Operation
Monday-Friday 8AM-5PM
Saturday 8AM-12PM
Sunday Closed
Location
725 S. Railroad Ave.
Paxton, IL 60957
located on Route 45 in Paxton next to the Dollar General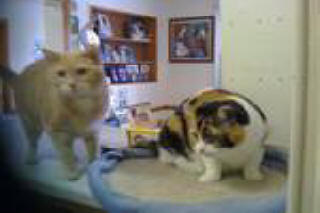 Meet the clinic cats: Gomer and Visa